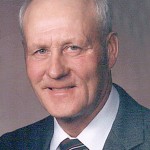 Rink
Walter James
Walter James Rink, age 85, passed away peacefully at the Manitou Lodge in Watrous, Sask. on July 24, 2012.
Walter was born Nov. 9, 1926 and grew up on the family farm with seven brothers and sisters. His farming career started at a very early age, as his dad died of cancer when Walter was young. He quit school and farmed with his brothers on the family farm. Later on he worked for Rudolph Ronning and this resulted in buying the Ronning farm, which is still home to his son Daryl and family. Walter married Edith Dempsey on Nov. 7, 1959. Walter farmed for over 60 years and throughout his life he always had a love for animals, especially horses.
Walter was a community-minded person, starting his community involvement as a young man playing ball on the Meuse ball team. As his family got older, Walter helped coach Daryl's hockey teams. He helped build the new skating rink after the old one collapsed. Further community work saw Walter on the R.M. of McCraney council for six years.
The Rink families never missed a deer hunting season and the opportunity to make sausage together. The Rink and Dempsey families got together on many occasions for a game of horseshoes and cards. Walter also loved to garden and picked pails of wild saskatoons and chokecherries.
In 2008 Walter and Edith moved into their home in Westridge Manor in Watrous. Walter's love for the land saw them putting on many miles to the farm, as Walter learned to farm from the sideline. This gave them more time to spend with grandchildren and now even great-grandchildren. They always brought a smile to his face. Another thing that put a smile on Walter's face was watching westerns, especially John Wayne movies. Walter enjoyed the many dances at Danceland, country schools and weddings, and travelling.
Walter loved family around and appreciated all their visits, even after having to move to Manitou Lodge in January, 2011 due to failing health.
Walter is survived by his loving wife Edith of 52 years; children Daryl (Joan) Rink, Tammy (David) Remmen and Raelene (Grant) Aseltine; grandchildren and great-grandchildren Justin (Tara) – Noah, Emmett and Adleigh; Daris (Paige); Kristen (Dave) – Bentley, Dash; Colton; Tiara (Andrew); Kaylee (Luke); Austin; Brayden and Kade; siblings Margaret Dieno, Alice McHolm, Ken (Ione) Rink Muriel Matycio and Raymond (Myrna) Rink; in-laws Russ and Shirley Deneiko, Dick and Elroy Freeman, Lois Didur, Jim and Tena Dempsey, Harry Parachoniak and numerous nieces and nephews. He was predeceased by his parents Henry and Theresa; sisters Kathleen Parachoniak and Marie Murphy; in-laws John and Kay Dempsey, Otto Dieno, Vincent Murphy and Gordon Matycio.
Funeral service was held on July 27, 2012 at Kenaston Place officiated by Pastor Kristin Soveran. Eulogy was given by Terry Deneiko; register attendants Paul and Joan Didur; ushers Brad and Wes Rink; organist Cathy Thall and soloist Darla Collins; honourary pallbearers, all who shared in Walter's life journey and active pallbearers, the family. Interment followed at the Kenaston Cemetery.
Walter will be deeply loved and sadly missed by his wife, family and many friends and neighbours.
Memorial donations directed to Watrous Community Health Foundation, Alzheimer's Society and Heart and Stroke Foundation.
Hanson's Funeral Service of Davidson was in care of arrangements.